Earn & Grow
Get Richer Booking The Caribbean with Meliá Hotels
Discover the EARN & GROW programme
How can I get my points?
Join MeliáRewards and earn points for both individual bookings and Leisure Group bookings, either through a tour operator or our direct channels (meliapro.com and the Meliá Hotels International contact center).
Follow these simple steps
1.- Join MeliáRewards and associate your account with your MeliáPro B2B profile. If you are not yet a member to join here.
*If your booking was made through a direct channel, you don't need to do anything else. The system will recognize your MeliáRewards card number and the points will be automatically added to your account.
2.- Register your Tour Operator bookings (indirect channels) using this form.
*You can register a booking from the customer's departure day to up to a maximum of 6 months later.
What can I do with my MeliáRewards points?
Online shopping
Discover the more than 40 partner companies and 1,500 options for using your points for online shopping with your favorite brands.
Give away or transfer your points
Give free hotel stays to your friends and family using the MeliáRewards gift cards or transfer points to your favorite loyalty program.
Flights and car rental
With MeliáRewards, you can convert your points into flights with the top airlines and car rental companies.
And enjoy Meliá hotels
Book at the more than 350 hotels, spas and restaurants that Meliá Hotels International has all over the world! No black-out dates!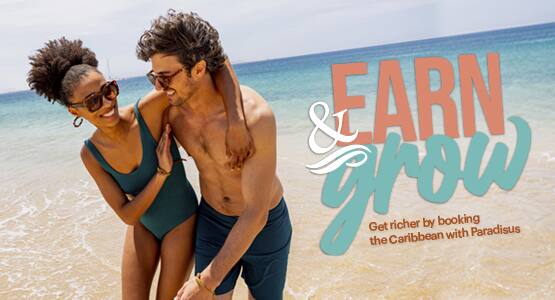 Promotion conditions
Earn & Grow is a special MeliáRewards program for registered Meliá PRO users from Canada, United States and LATAM.
Applicable for wholesalers and travel agents bookings.
SELECTION OF PARTNERS & LOYALTY PROGRAMS AVAILABLE THROUGH MELIÁREWARDS: Advantage, Adidas, Aeroclub, Air Canada, Air Europa, Amazon, Anghami, Apple Music, Asos, Atom, Avis, Banana Republic, Binter, Burguer King, Cinemark, Cineplex, Cirque du Soleil, Clarks, Columbia Airlines, Columbia Sportwear, Connect Miles, Delta Airlines, Eastern Miles, Ebay.com, Enrich, Europcar, Executive Club, Footlooker, Google Play, H&M, Hard Rock Café, Iberia Plus, Krisflyer, Marshalls, Mastercard, Membership Rewards, Miles & More, Netflix, Nike, Nintendo, PlayStation, Renfe, Sixt, Southwest Airlines, Starbucks, Swarosvski, TJX, Uber, Uber Eats, Vueling, Wallmart, Xbox, Xbox Life.
See on meliarewards.com